Now they everyone gets to see my writing skills(or lack thereof).
The Funk(Arnie has now picked up on that) or 'D(Maxi calls me this and is admittedly lazy enough not to fully type out my five letter name) thanks you for the thought and tag.
This is what I did(mind you, I wrote this out quickly even though it may not look that way and it is very much like an amateur)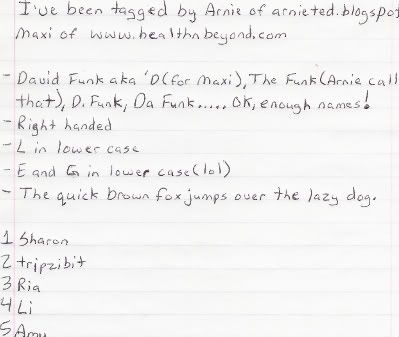 And the Rules is:
Write down who tagged you in white paper and your answer in number 2 and 3. Take a photo of it and upload the photo in your blog to share us how your handwriting looks like.
Answer these:
- your name/user name/ pseudo
- right handed or left handed ?
- your favorite letters to write ?
- your least favorite letters to write?
- Write " The quick brown fox jumps over the lazy dog. "
3. Tag five people.
In case you can't read this, here's the people I tagged.
If anyone else wants to show their writing skills, then feel free to grab this tag.
Thank you all for viewing! Two more tags are coming soon!